October is HERE, which means it's time for our yearly pumpkin decorating contest! Get together with family or friends to create your masterpiece and then bring it to school and show it off!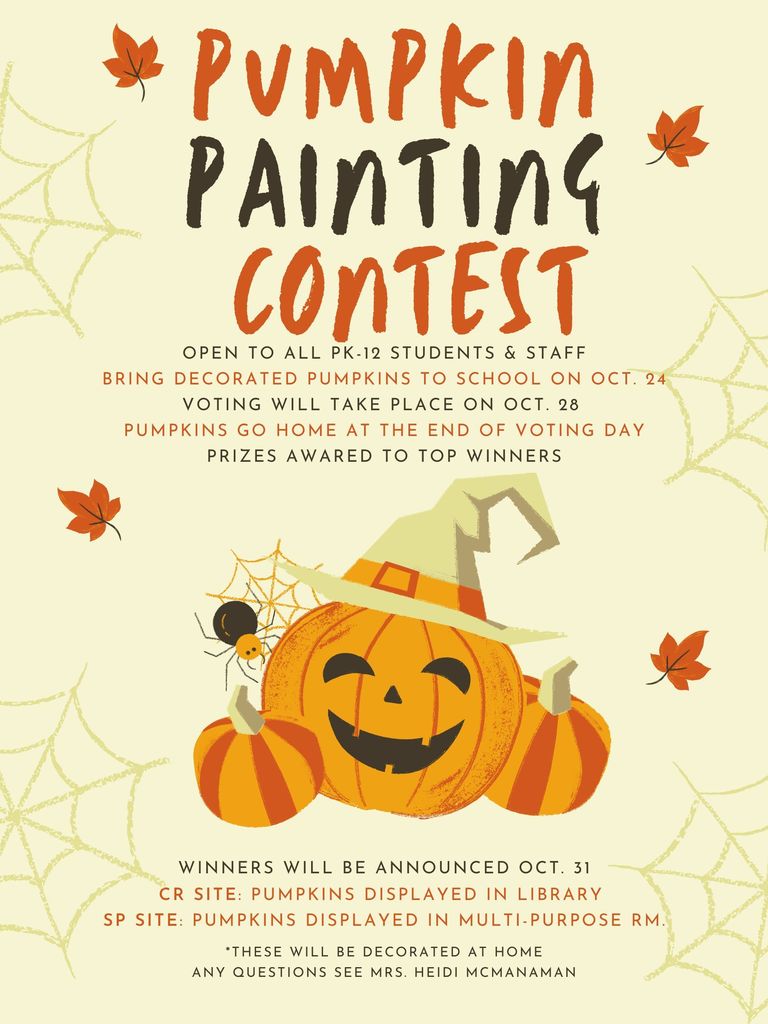 Charger volleyball fans unable to attend tonight's triangular with Palmer and St. Ed can view matches on our YouTube Channel or listen to the broadcast on KNLV!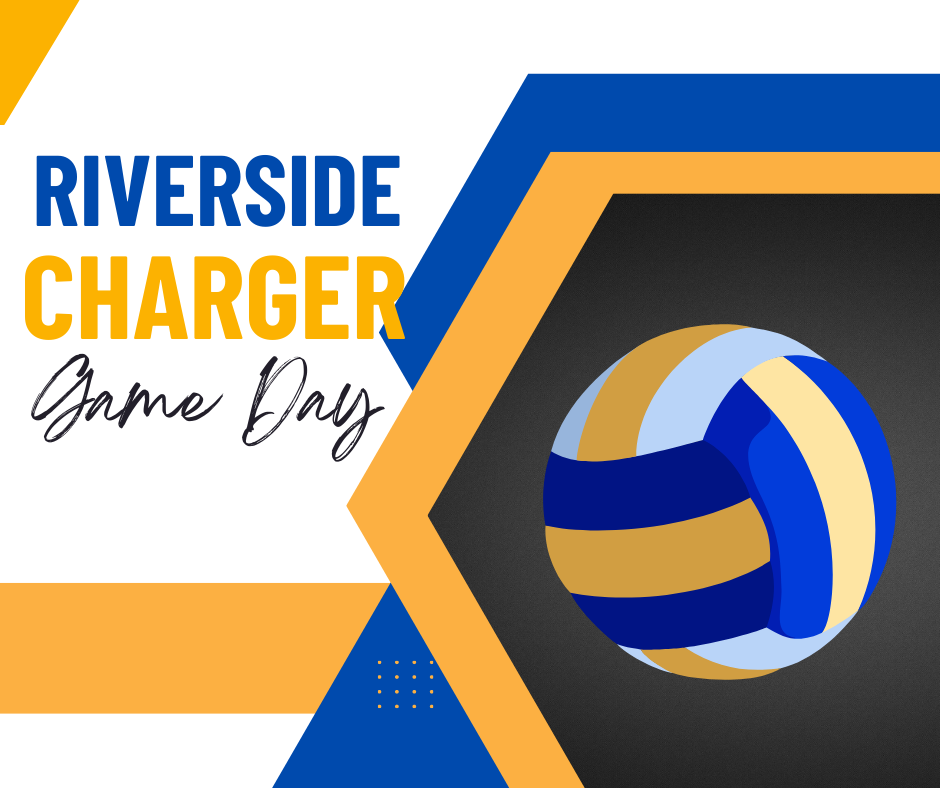 Senior Night for fall activities is Tuesday during the home volleyball triangular. All seniors in Volleyball, Football, Cross Country, and One Act along with their parents will be recognized after the 2nd varsity match of the evening (approximately 7:15pm).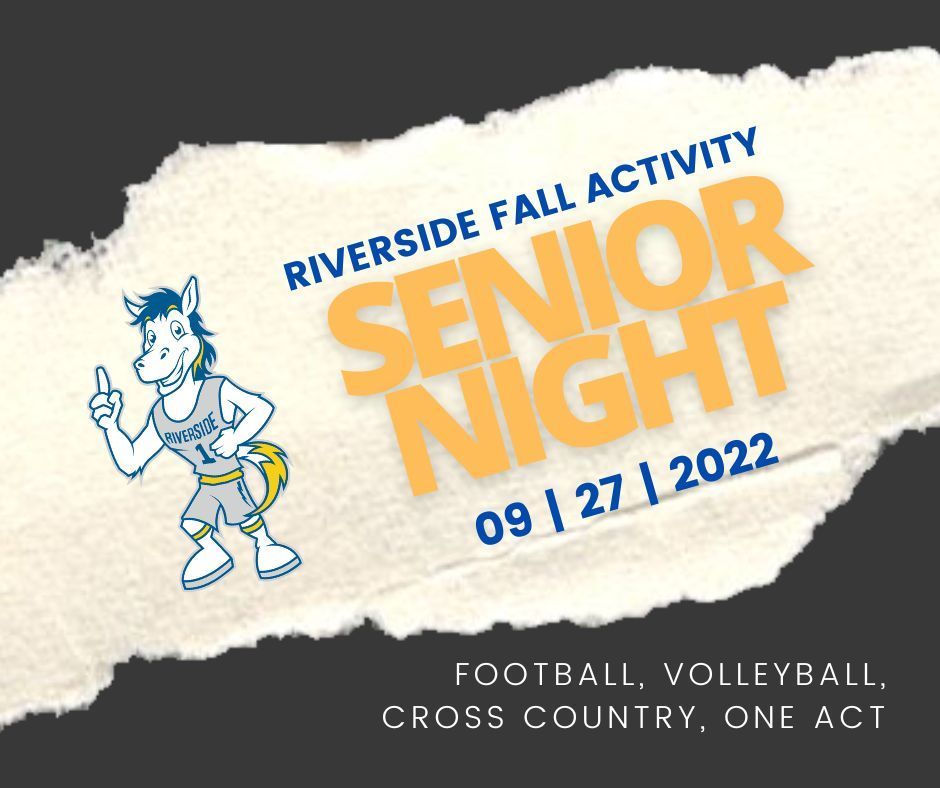 Reminder of no school due to PT Conferences this Wednesday! Cedar Site Information: Please enter through the main school entrance and sign in to collect your child's packet. Conferences will be held: preschool in classroom, grades K-5 in game gym, grades 9-12 in multi-purpose gym. Spalding Site information: Please enter though the main west school entrance and sign in at the office to collect your child's packet. Conferences will be held: preschool later date, grades K-5 in classrooms, grades 6-8 in the gym.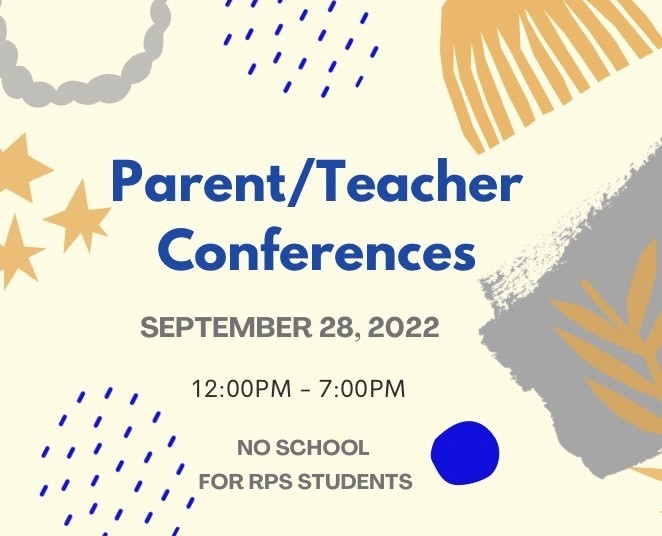 Spreading the word about the good eats available at tomorrow's football game in Arcadia! Serving at 6:00pm and throughout the game!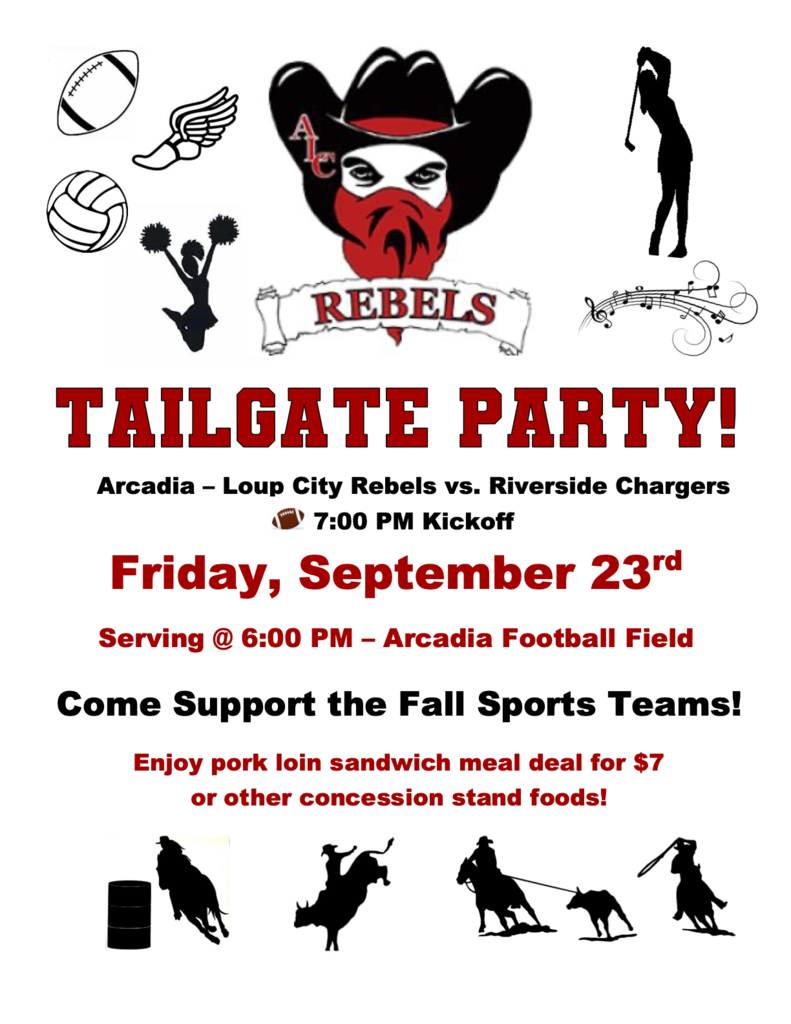 ***NOTE*** Changes to Monday's Junior High games (September 26th): 2:00pm Riverside junior high volleyball will play High Plains ("B" game first then "A" game) 4:00pm Riverside junior high volleyball will play Elba ("A game first then "B" game) 5:00pm Riverside junior high football will play Howells-Dodge 6:30pm Riverside Junior Varsity will play EPPJ

Due to heat, tomorrow's cross country meet in Palmer will begin at 9:30 am. The bus will pick up athletes at the following times: Spalding 7:00 am Cedar Rapids 7:25am Belgrade 7:35am At the conclusion of the race, students will return to school for the remainder of the day.

The junior high volleyball game scheduled for Wednesday, September 21st is postponed. It will now be played on Monday, September 26th, in conjunction with the regularly scheduled game with Elba. Schedule and times will be sent out when finalized.

Reminder: Today's junior high and junior varsity football games will be played in Lindsay. Junior high game will begin at 4:30pm and junior varsity game will begin at 6:00pm.
Schedule for the Riverside JV volleyball tournament this Saturday...go big blue!
Special shout-out to KZ-100 for covering this week's homecoming game!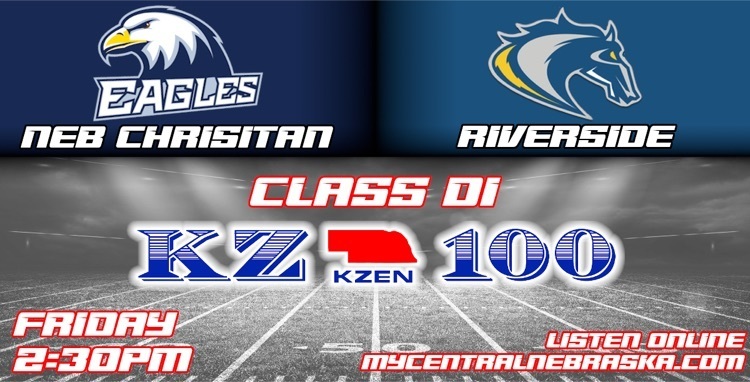 Our Senior Spotlight student is Averi Fulton. Congratulations Averi.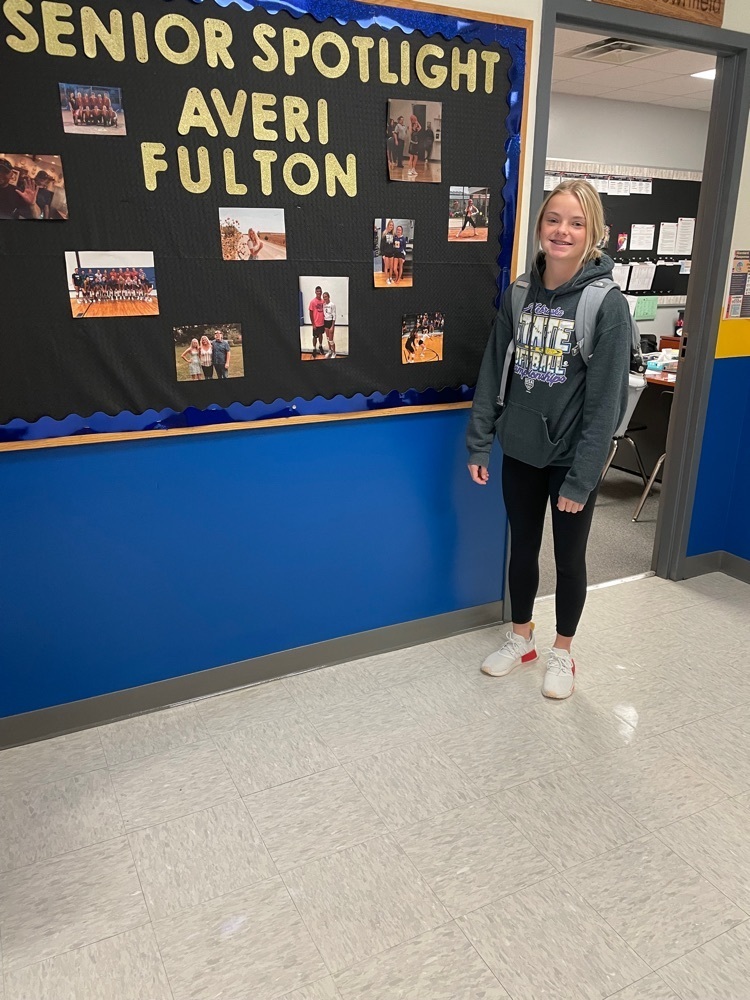 Reminder that the Spalding Site book fair kicks off today! We'll be open from 3:00-4:30pm today, Thursday, and Friday. Will also be open during Friday's Grandparent's Day luncheon. 3 names will be drawn from the Spalding Site Book Fair and 3 names will be drawn from the Cedar Site Book Fair. Book winners will be announced Monday the 19th!
XC is at Boone Central today! Meet begins at 4:30 at the Albion Country Club. Good luck to our middle school and high school athletes and coach!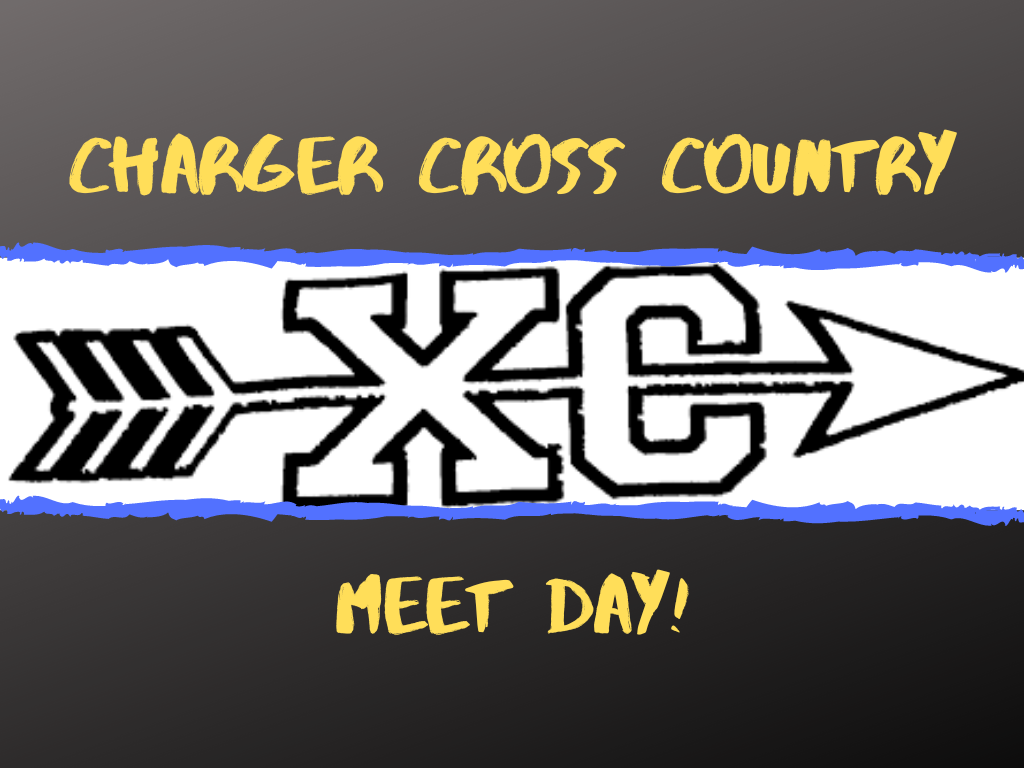 Enjoy the long weekend and GO BIG BLUE!

📚It's BOOK FAIR time!📚 Book Fair is open: Spalding Site Cafeteria 3:00-4:30pm Tuesday, Sept. 6th, Thursday, Sept. 8th, and Friday, Sept. 9th (will also be open during the grandparents day luncheon on Friday) Cedar Site Library 3:00-4:30pm Monday, Sept. 12th-Thursday, Sept. 15th Or you can use this link to shop online at anytime from Sept.6-16th!
https://bookfairs.scholastic.com/bf/riversidepublicschools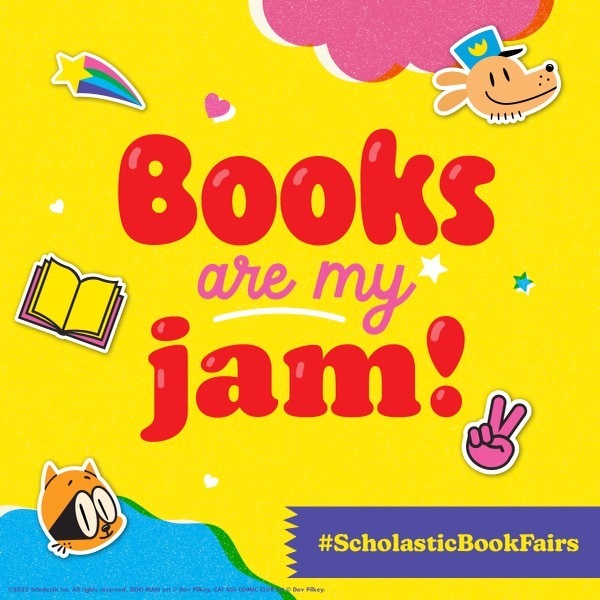 🏈 Catch the Charger football team in action this week! 🔵 Monday: JV vs. Twin River in Cedar Rapids at 6:00pm Friday: V vs. Sandy Creek in Cedar Rapids at 2:30pm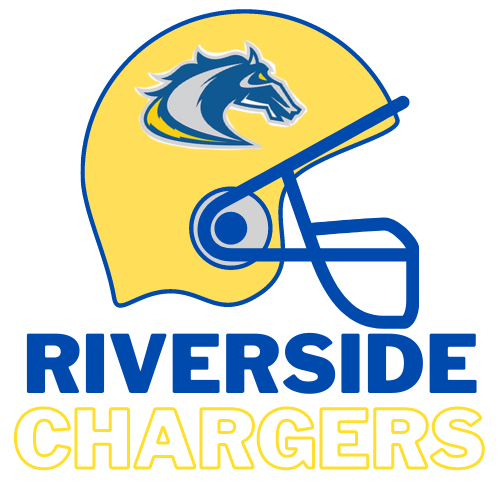 ⚡️Charger volleyball kicks off this week! 🏐 Monday: Middle School plays @ Fullerton starting at 4:30pm (A game followed by B game) Tuesday: C, JV, V plays in Cedar Rapids vs. Twin River starting at 6:00pm Thursday: V triangular @ Central Valley with RPS playing the 6:30pm and 7:30pm matches