Come join us Saturday, September 16th for the 4th annual Farmers Market at the Cedar Site east parking lot!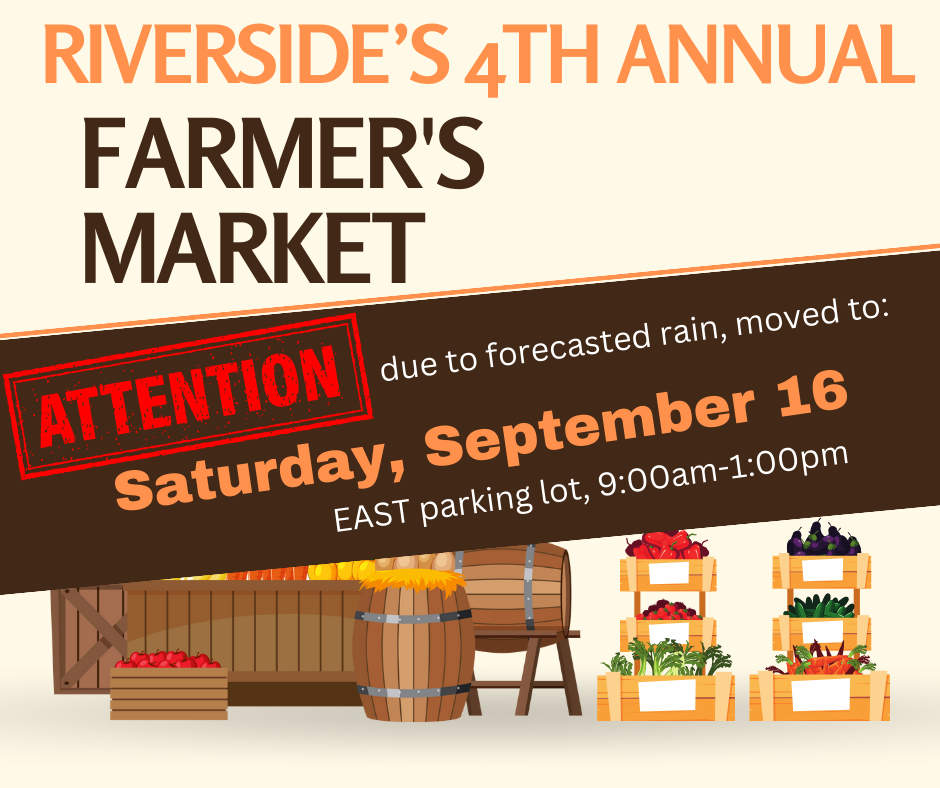 Remember we've got the Farmer's Market taking place this Saturday in Cedar Rapids! Follow the event on Facebook for more details:
https://fb.me/e/6FNhwW1hu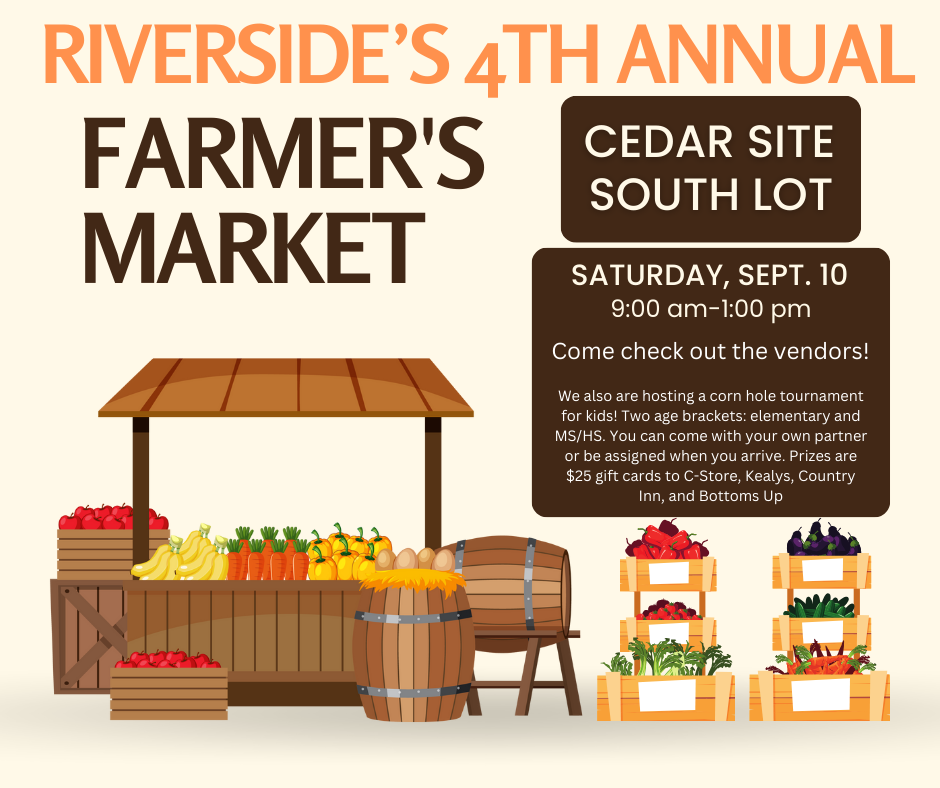 We hope you're all having a great Labor Day weekend and come back to school excited for a fabulous HOMECOMING WEEK! See you all on Tuesday!


We 💙 books, yes we do! We 💙 books, how 'bout you! Come and check out our book fair starting at the Cedar Site next week!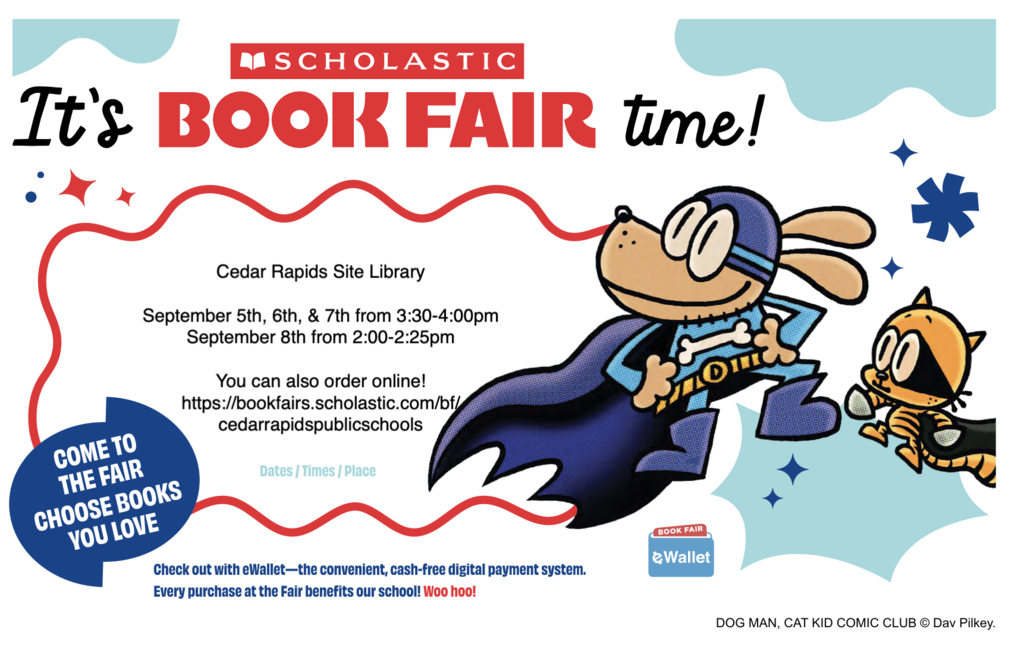 🚨🚨 Due to heat, Friday's Boone Central XC meet at the Albion Country Club has been moved to a 9:00am start time! 🚨🚨 Order of races will remain the same: High School Girls High School Boys JH Girls JH Boys

Happenings for this week!

📣 Calling all Seniors interested in UNL! Check this out! 📣 From Aug 1 - Nov 1, you can apply to the University of Nebraska for free! Nebraska will waive the $45 application fee for all resident first-time freshmen and transfer students who wish to apply for the Fall 2024 term. To apply to Nebraska for free, you should enter "HUSKER" in the Application Fee Waiver Code field at the end of Nebraska's application at go.unl.edu/apply-now.


⚡️ We've got a busy few days of activities! GO BIG BLUE! ⚡️ Tomorrow is XC in St. Paul beginning at 9:30. Reminder that spectators are to park at the St. Paul Fairgrounds and busses will shuttle you to Miletta Vista Winery. Tomorrow is also JV/V volleyball vs. CWC at the Spalding site. JV plays at 6:00 with V to follow at 7:00. Games will be streamed on our YouTube Channel:
https://www.youtube.com/channel/UCk_E3zxBMBp-M2eJwZTwUYw
Friday is V football vs. Stanton at the Cedar site beginning at 7:00. The game will be broadcast on 97.5 KEXL and also streamed on our YouTube Channel:
https://www.youtube.com/channel/UCk_E3zxBMBp-M2eJwZTwUYw

Our littlest Chargers join us at school this week! See you on Tuesday, preschoolers!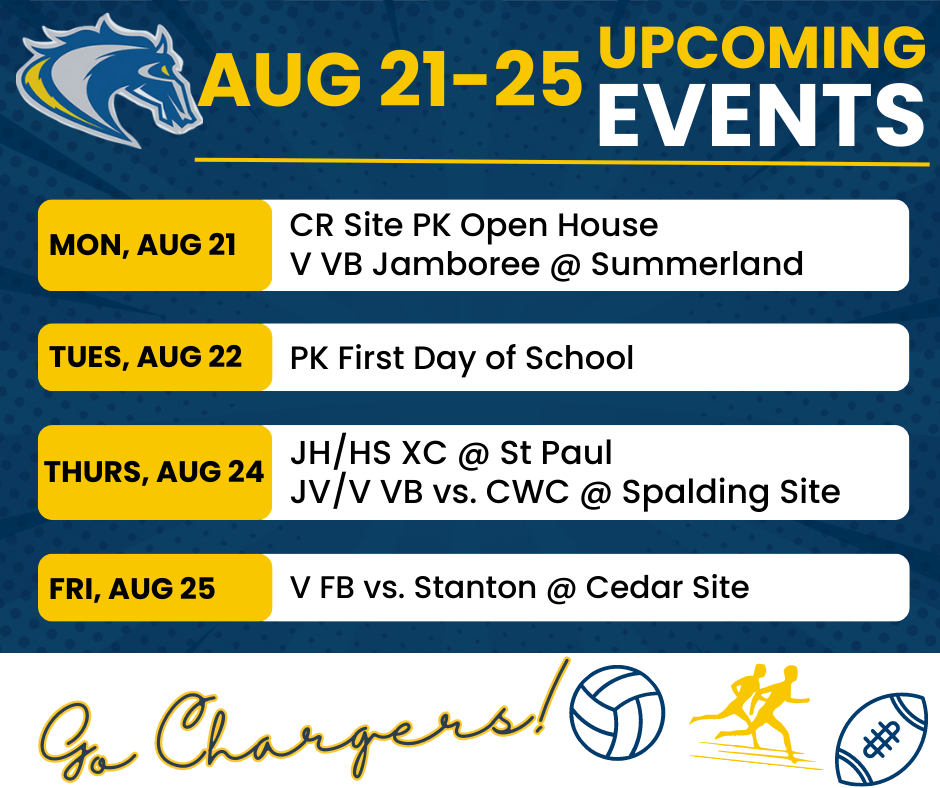 GAME DAY #1 IS HERE! Football travels to Summerland tonight with volleyball and cross country kicking off their seasons next week. Remember to stay connected with game dates, times, and locations via the calendar on our website and app! GO CHARGERS! ⚡️
https://www.riversideps.org/events?view=cal-month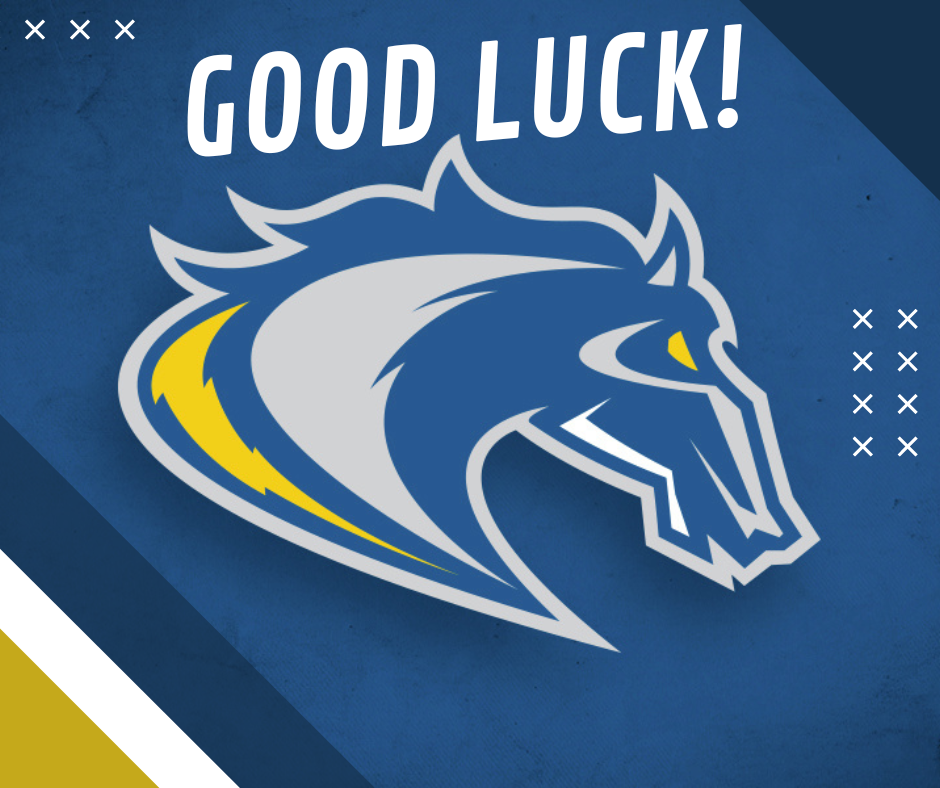 School picture information was mailed home in the back-to-school packets, but we wanted to remind everyone again! Your students should all come home with picture envelopes tomorrow!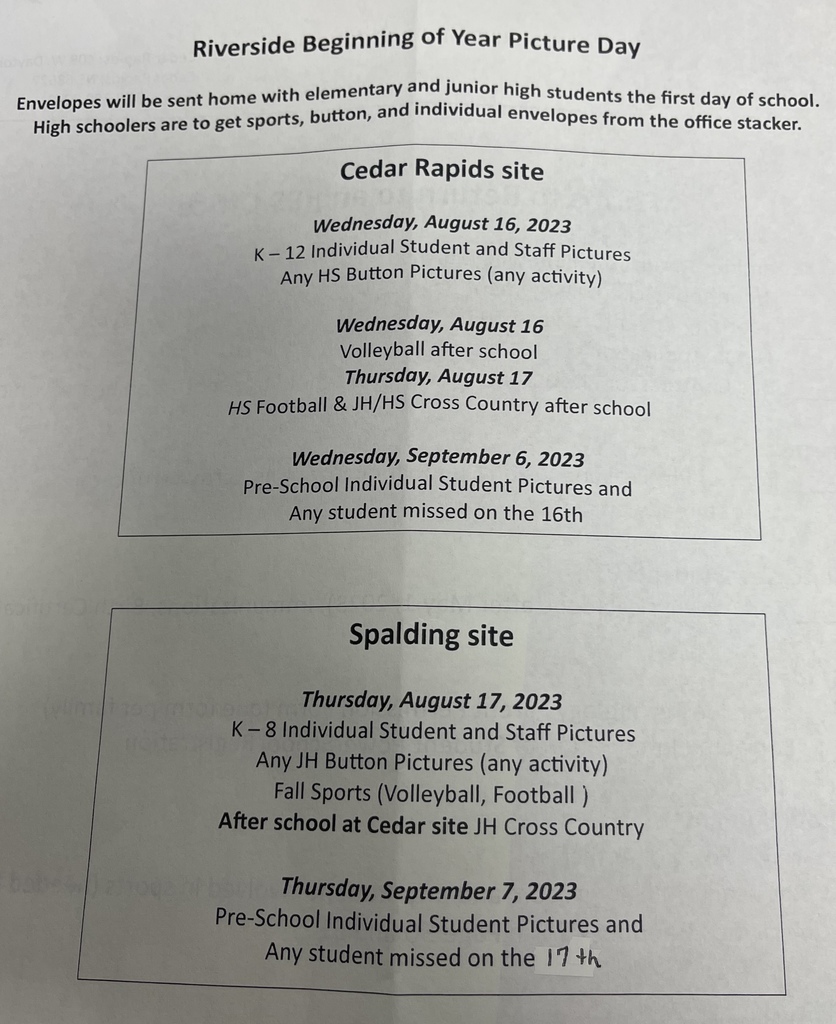 We are so excited to see everyone tomorrow! Reminder that school doors open at 7:40am each morning. The high school bus to Cedar departs Spalding at 7:15am each morning. Middle school students then board that bus (approx. 7:35am) and ride it to Spalding. Here's to a great school year! ⚡️

As the school year approaches, what is the best way to stay up-to-date with Riverside happenings? OUR CALENDAR! Available on our website
www.riversideps.org
and our app downloadable via Apple and Android app stores. Mrs. Bennett is a true rockstar at keeping it current as soon as she is made aware of game times, date changes, or new events. We welcome phone calls to the office if you ever have a question. The photos with this post show how you can filter our calendar by individual activity/sport/event and even add the events to your own digital calendar.